Easier way to make four-sided tapers
Start with the legs extralong and keep that square length to position the part more easily.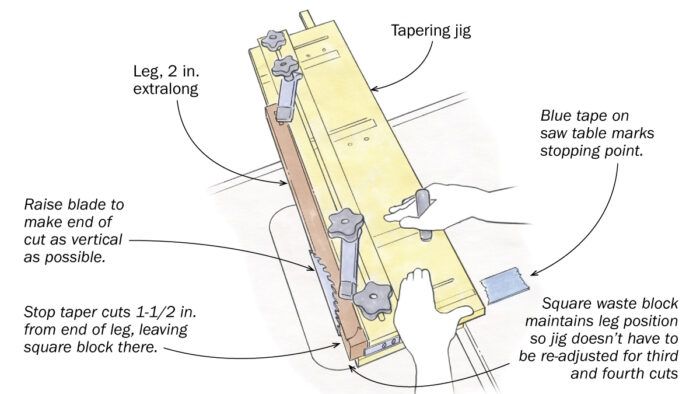 To make a four-sided taper on a table saw tapering jig, you have to re-adjust the fence angle for the last two cuts. You also need to place an offcut under the leg when cutting the fourth taper. But if you start with the legs 2 in. extralong, and stop the taper cuts before the end, you'll leave a square block there that keeps the leg in the same position for all four cuts, with no need to move the fence or add the offcut below. Better yet, it lets you clamp both ends of the leg, which minimizes chatter. Lastly, when you are cutting the leg to final length, the square block keeps the leg positioned for a square cut.
—MATTHEW DOERING, Stamford, Conn.
Illustrations by Dan Thornton
From Fine Woodworking issue #304