How to add elegant feet to tapered legs
Whether veneered or solid, decorative feet are easier than you might think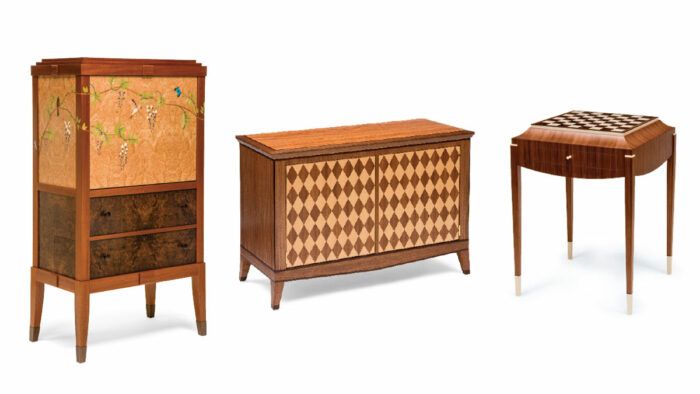 Synopsis: Decorative, contrasting feet can provide a lot of visual interest to legs on tables, chairs, cabinets, chests, and beds. Craig Thibodeau usually applies them to tapered legs, and they take one of two forms. Solid-wood feet are attached to the bottom of the leg blank with a dowel joint, while veneered feet can be enhanced with cuff (proud or flush), inlay, banding, and other details.
---
I often add decorative, contrasting feet to furniture legs. While they aren't suited to every style of furniture, they can add a lot of visual interest and refinement to tables, chairs, cabinets, chests, and beds. 
I tend to apply feet to legs with four-sided tapers. The tapers begin partway down the leg, leaving a square section at the top that makes the leg easy to attach to the piece. So I'll focus on tapered legs in this article. 
The feet take two main forms. The most basic is a solid wooden block, attached to the bottom of the leg blank with a dowel joint. The two parts are then shaped as a single piece, making it easy to create tapers or curves that flow from leg to foot. The other form is cuffs, which are applied veneers that look exactly like a solid foot. 
While solid feet are quicker and easier to attach, the cuff approach opens the door to decorative woods that would be prohibitively expensive in solid form. I also choose veneered cuffs when a solid foot would be too narrow to accept a durable dowel joint. 
Whether the feet are solid or veneered, I often add decorative details to enhance the appeal. The simplest is a small V-groove routed into a solid foot. Another is a band of inlay, glued into a routed groove, often placed at the transition between leg and foot, which has the added benefit of hiding any gap there. The banding can range from thin stringing to more complex store-bought designs, but the techniques are similar for either.
Read on, and you'll find that there's nothing preventing you from adding beautiful feet to your next set of furniture legs. 
Solid feet are the simplest
The most straightforward approach for adding decorative feet to your furniture is joining a solid-wood foot to the bottom of the leg. I connect the parts with a sturdy dowel—at  least 3⁄8 in. dia. and 3 in. long.
To make sure the lines flow smoothly from leg to foot, I do all of the leg shaping after the foot is attached. You can cut the leg and foot tapers (or curves) beforehand, but I've found that there's often a very slight misalignment between the two no matter how precise the layout and drilling have been. It's much easier to drill accurate dowel holes while the parts are still square.
To drill accurate dowel holes into the end grain of the leg and foot blanks, I clamp the parts upright in the drill press, with the help of a 90° block that I clamp to my drill-press table. I like to drill at least 1-1⁄2 in. into each part. 
Cut the dowel 1⁄4 in. short to leave space for excess glue to collect, so the joint is sure to come together, and be sure to dry-fit at least one joint before applying glue and assembling all four.   
There are a number of table-saw jigs—both shopmade and store-bought—for making four-sided tapers. The best are sleds, with a base that carries the leg over the saw, like the one Tom McLaughlin presented in FWW #268 (May/June 2018).
Solid feet are the simplest
If the leg is thick enough to accommodate a sturdy dowel (at least 3⁄8 in. dia.), and the foot material isn't too pricey, you can simply add solid blocks of wood to create feet. These go on while the leg is still square, then the leg and foot are tapered as one piece. 
Craig Thibodeau is a professional furniture maker in Virginia.
Photos: Asa Christiana
To view the entire article, please click the View PDF button below.
| | |
| --- | --- |
| | Use patterns and a router table to create uniform tapers on all four table legs. |
| | Mike Pekovich demonstrates how you can accurately and consistently taper parts on the jointer. |
| | Dress up the bottoms of table legs with inlaid "toes" that wrap around all four sides. |
View PDF