How-To
How to Make a Simple Box-Joint Jig
The key to Mike Pekovich's box joints is a simple jig that allows him to work quickly toward a perfect fit.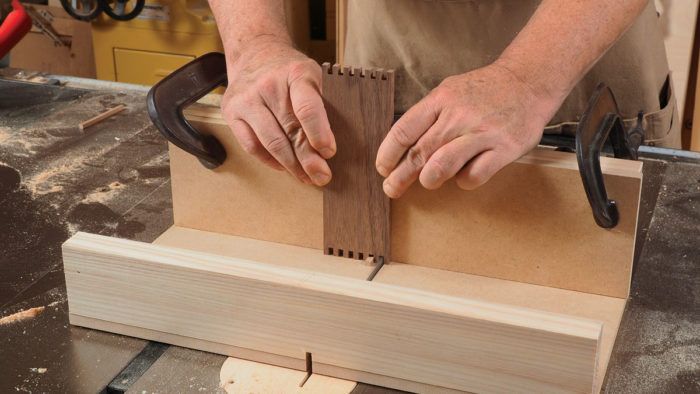 The key to accurate box joints is using an indexing pin that each successive kerf fits onto. The pin must be accurately positioned in relation to the blade, and you have to make small adjustments to dial in a perfect fit. The best way to do this is to glue the pin into a notch in a piece of MDF and clamp the MDF to the crosscut sled's fence. By loosening the clamps slightly and tapping the MDF one way or the other, you can quickly work toward a perfect fit. I use my tenoning sled for this job.
The pin must be the exact width of the kerf but this is easy to do. Cut a notch in the MDF using the same blade you'll use to cut the box joints, and trim a piece of stock to fit the notch. Cut a short length off one end and glue it into the notch. To position the auxiliary fence, place the remaining length of the pin stock against the blade and slide the fence over until the pin is snug against it. This should get you close, but you'll need to make a test joint to verify the placement. Make a series of fingers on the ends of a pair of boards by cutting a notch near the edge of the board, then slipping that notch onto the pin and repeating the cut. Any error in alignment will be multiplied by the number of fingers in the joint, so any minor adjustment will have a big effect on the fit. If the pins  are too narrow, move the indexing pin away from the blade. If the pins are too wide, move the indexing pin toward the blade.
| | |
| --- | --- |
| | |
Add an indexing pin. Cut a notch in the sliding fence and size a strip of wood to fit it. Cut off an end and glue it into the notch by adding a drop of cyanoacrylate (CA) glue. The height of the pin should be lower than the box- joint notches you'll be cutting so that the parts sit flat on the sled base.
From Fine Woodworking #286
---