Projects and Plans
Craftsman Rocking Chair
Classic style meets comfort in this sturdy oak rocking chair.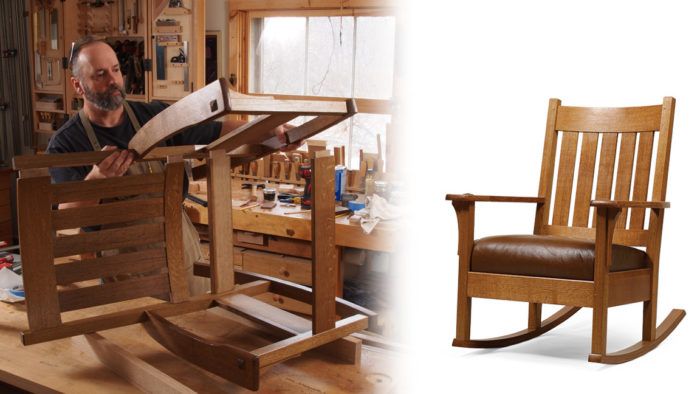 Synopsis: Mike Pekovich's rocker is designed for comfort as well as style. Its wide, low stance and deep cushion take care of the comfort part of the equation, and the curves and angled joinery plus classic Craftsman details add plenty of style. The curved rear legs are shaped using a template, and a wedge makes cutting the angled joinery easier. With double tenons at the back and a through-mortise and tenon at the front, the armrests add extra insurance against racking. The rockers are bent laminations, which are stronger than solid wood. From issue #267—Mar/Apr 2018
---
Designing a chair can be a tough thing to get right, especially a rocking chair. So I used an old Stickley-style flea-market find that's been parked in front of my woodstove for a number of years as a starting point. Its wide, low stance and deep cushion make it the most comfortable rocker I've sat in. My goal was to clean up some of the lines and proportions of the original, but make sure to keep all of its comfort intact.
The construction of the chair is straightforward, but there are curves and angled joinery that add a little challenge. Fortunately I found a way to simplify both tasks.
The front legs are straight, but the rear legs take a bit of a turn. It's important to get their shape right for the rest of the project to go easily. Start by making templates for the legs. I used 1⁄4-in. MDF. Draw the joinery on the templates to allow them to also serve as story sticks.
Trace out the rear leg profile on the stock and rough-saw the shape on the bandsaw. To clean up the lower front face of the legs at the exact angle, I made a jig for the tablesaw. The back faces are not as critical, so I just cut close to the line on the bandsaw and cleaned up with a block plane, scraping the inside corner where the block plane couldn't reach. With the legs shaped, cut the mortises. If you use a hollow-chisel mortiser, place a wedge under the rear leg to keep the front face horizontal when cutting the side rail mortises. For the mortises on the inside face, be sure to register the front of the leg against the fence.
In addition to mortises for the seat rails, the front legs get a tenon at the top for the armrest. The outside faces are grooved for the corbels that support the armrests.
For the full article, download the PDF below.
From issue #267—Mar/Apr 2018
More on FineWoodworking.com:
View PDF