Benchmarks: Mary May—Carving really isn't that scary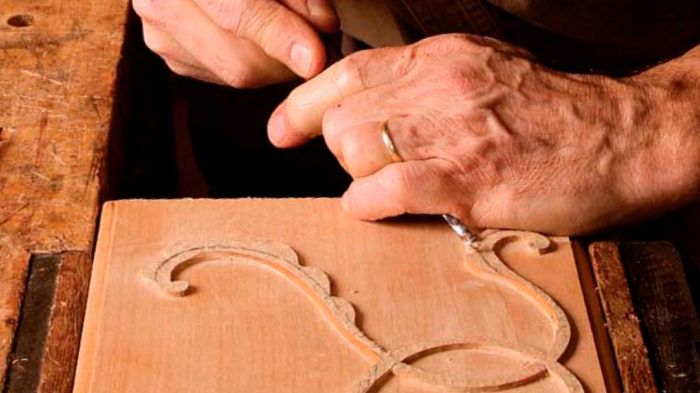 When I first became interested in woodcarving, I tried to find any information I could find on traditional carving techniques through books or magazines. I found a lot of information on whittling and knife carving, but not much on the decorative style of carving I was seeking.  One day as I was browsing through the art and hobby section of a used book store, I found a November 1978 Fine Woodworking magazine and was so excited to find an article by Rick Butz called "Relief Carving, Traditional Methods Work Best." It was exactly what I was looking for! It explained in great detail how to carve a traditional, stylized acanthus leaf in relief. It is true, as they say, that when the student is ready, the teacher arrives.
Nowadays, I often meet skilled woodworkers and furniture makers who are fully confident in making pieces with 90° angles, but the suggestion of carving decorative details or curves into those pieces creates a mortal fear. Just think if you could bring that seemingly out-of-reach aspect of woodworking into your world and add an entirely new dimension to your furniture.
So how do you get past that anxiety to venture into the foreign world of curves and decorative carving? Begin by recognizing that for any new skill, no matter how daunting, we all have to start somewhere. Remember the tentative feeling you had the first time you used a handplane? Or the hesitation of putting a piece of wood through a tablesaw for the first time? Well, I invite you to boldly step into the mysterious world of woodcarving. It's really not that scary. And you never know—you might discover a completely new and exciting dimension in your woodworking.
To start your woodcarving adventure, you have several options. You can teach yourself by simply diving in and see what happens, you can learn from a book, you can watch instructional videos, or you can find a class to take. The in-person class is really the best, as this offers immediate feedback and instruction, and helps to prevent bad carving habits that will need to be unlearned later. But if that's not a possibility, here are a few excellent articles that can help you through the process. In addition to reading, really get in the shop and log carving miles. Practice. Oh, and those first few practice pieces? They could help keep you warm in the winter by fueling your fireplace. Or you could save those first few awkward cuts to watch your progress and see how far you have come.
​   Mary May
Best way to make carvings that stand proud of a surface

Will Neptune

Traditional methods work best

Rick Bütz

Learn to sharpen a curved gouge and you'll be able to handle most carving tools.

Dan Faia

The trifid, or three-toe, foot is a simple, yet elegant carved foot commonly found on period furniture.

Lonnie Bird

Commercial slipstones, diamond files, and shopmade slips all can be useful for sharpening and honing the curved edges of carving gouges.

Thomas Lie-Nielsen